INTERVENTION AND EMERGENCY PATROLS
Emergency vehicles are in operation 24/7 throughout the territory of Slovakia and are ready to immediately perform the necessary safety intervention after receiving an alarm signal or also any assistance or maintenance service upon request.
THE QUICKEST INTERVENTION
We have at our disposal the most emergency units in Slovaki
We use the most modern GPS system enabling a direct connection between operators and emergency units. The operator can thus activate the patrol that is closest to the disruoted object, taking into account not only the distance, but also the traffic situation. The nearest vehicle receives GPS coordinates and is navigated to the object using a digitized map, which can reduce the arrival time to a minimum.
Communication between operators and emergency vehicles takes place via a private radio network, which is the fastest and most reliable solution.
During the season, we also use motorcycles, which intervene faster than cars.
Our patrol vehicles cover the entire territory of Bratislava and the surrounding area. We protect premises outside of Bratislava in cooperation with other security companies, which, based on our instructions, carry out specific interventions – using a uniform methodology. We regularly test companies and joint activity is coordinated so that you have only one partner – Securiton.
If the client does not want the constant presence of security personnel or it is unbearable for him from an economic point of view, it is possible to use the so-called sector. This is a control and security activity, which is carried out in the building in a predetermined or random time interval.
The security personnel will arrive at the building, perform the agreed activity and, in case of detection of deficiencies, disturbances or other reasons, they will proceed according to the agreed rules.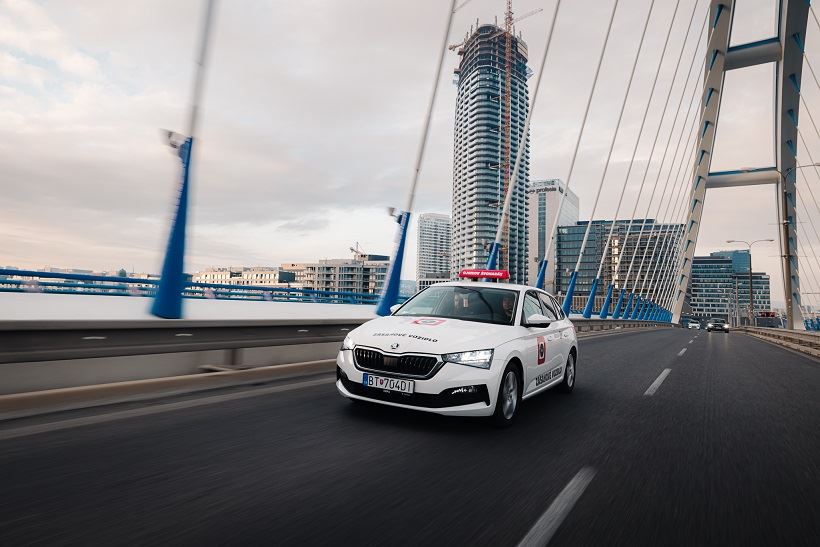 In addition to the usual interventions for security incidents (control and guarding activities), we can use our network of emergency vehicles to provide other activities of a diverse nature, e.g.: making the area available to authorized persons upon request, assistance for clients and suppliers, carrying out daily fire protection systems checks, or performing simple technical interventions (e.g. closing a broken automatic gate, replenishing consumables, restarting non-functional technology, etc.)